choosing # 11
Shinta ~ Industry
3
Oritje ~ Freedom
10
Cheriberi ~ I spy the letter 'P'
30
Mimi ~ Zest
8
Redheadgoddess ~ Song Titles
14
Feiyingz ~ Twisted
11
Vanessa ~ Broken
7
Marc ~ Curves
6
Tallyknight ~ Extravagance
11
Photographyku ~ Roadside
9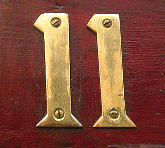 I did some research regarding the number 11 and this is what I discovered: It possesses the qualities of intuition, patience, honesty, sensitivity, and spirituality, and is idealistic.
In systems such as Astrology and basic Numerology, eleven is considered to be a Master Number. Eleven can also represent transgression (aha) as ten is considered the perfect number, eleven represents the exceeding of that. It is interesting to note that eleven when broken down ( 1+1=2) comprises the Two of duality. Number eleven is a master vibration and as such should not be reduced to a single number. People with this number could be both idealistic and visionary, and they are attracted to the unknown.They can be both unusual, interesting and magnetic personalities.
Eleven bring the gift of spiritual inheritance, is gifted as the "Light-Bearer". It is the number of the Light within all. Strengthened by the love of Peace, gentleness, sensitivity and insight. Greatest facility is the awareness of Universal relationship. Is related to the energy of Oppositions and the Balancing needed in order to achieve synthesis.
Eleven is The PeaceMaker... Colours : Gold, Salmon, Prune, White and Black.
So here we are with a Poll once more, this time to select that coveted #11 spot in the recent competition. We have chosen ten from a selection of many, one from each week. Ones who made the short list but were sadly left out due to the limit set on the number we were allowed to choose.
So in no particular order we give you our choice of ten...
Remember : one vote per person, and voting is open to contacts of Picture Perfect only!
Contestants please ensure that your picture is open to all to view!

1. http://shintatr.multiply.com/journal/item/278/PICTURE_PERFECT_-_Industry Industry

2. http://oritje.multiply.com/journal/item/92/Picture_Perfect_Freedom FREEDOM

3.
http://cheriberi.multiply.com/journal/item/367/Picture_Perfect_I_Spy I spy...'P'


4.
http://mimisplace.multiply.com/journal/item/255/Picture_Perfect_Friday..._Zest?replies_read=1 zest
8.
http://stosoned.multiply.com/journal/item/335/PICTURE_PERFECT_CONTEST_THEME_-_CURVES
curves
Congratulations and Good Luck everyone!!